Here is my painting for the Day 21 of the 30 in 30 challenge.
Another one that I actually painted over an old painting. I feels like I am just starting to understand the power of oil paints. I come from a  watercolor background so I am always concerned about planning ahead. But this is quite interesting, in a good way or bad, you tell me…
Here are some step by step pictures.
The view from an awesome trail, here in Prescott.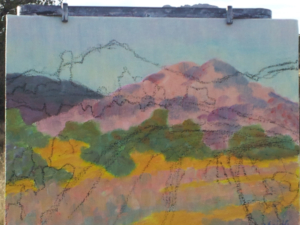 Oh and here is my old painting that I am going to paint on top of. At first I thought that this would be distracting because of the things underneath. But once I start painting… it's funny, I don't see anything else but what I need to see.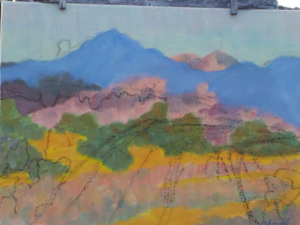 Now the magic begins as the blue mountain begins to emerge… I love this stage!
Oh and soon as I put the road down, I instantly knew how ugly that was! Ughh….
So I painted over it! Ha! I am still know sure if the composition works or not but it seems to be telling me a story…
Heading North
9″x12″
oil on panel
Click here to buy
https://srishtiart.net/wp-content/uploads/Heading-North_Srishti-Wilhelm.jpg
604
800
Srishti Wilhelm
http://srishtiart.net/wp-content/uploads/Logo-green2-1-300x77.png
Srishti Wilhelm
2014-01-21 21:39:20
2014-01-22 10:35:17
Heading North