Natalie (part 3), Day 27, 30 in 30
Today was the last day to paint Natalie… So much excitement, anticipation and doubts. Would I be able to finish the painting today? I had so much to cover (oops, no pun intended!), I mean the canvas. I had no idea what I was going to do with the big white background that has stared me in the face for the lase three weeks.
If you have missed out on last two installments of the work-in-progress on this painting, here are the back issues:
https://srishtiart.net/2014/01/natalie-part-1-day-13-30-in-30.html
https://srishtiart.net/2014/01/natalie-part-2-day-20-30-in-30.html
Started with finishing up the figure.

Her hair, most amazing, reds, golds, darks, you name it and she had the color.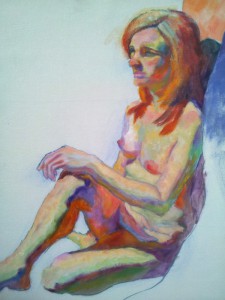 Starting to work on the back ground. I had about 45 more minutes to paint I had no clue of what to do.

So I started putting the blue in that I saw in the background in the studio and that took over and turned into a sky and then there was a sunrise/sunset (what do you think it looks like? Sunrise or Sunset? )

And then there was a beach! or cliffs where she is sitting. You know what the funny thing is? The model is actually planning to go to the Bahamas or one of those places for a vacation in a couple of months!

So here she is:
Natalie
24″ x 18″
oil on panel (unframed)
Buy Here
https://srishtiart.net/wp-content/uploads/Natalie_Srishti-Wilhelm.jpg
800
594
Srishti wilhelm
http://srishtiart.net/wp-content/uploads/Logo-green2-1-300x77.png
Srishti wilhelm
2014-01-27 18:02:40
2014-01-27 20:12:49
Natalie (part 3), Day 27, 30 in 30